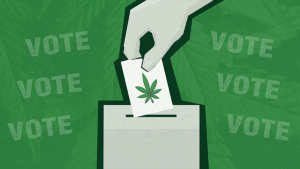 Two recently released polls show that Ohioans remain solidly behind an Election Day effort to legalize marijuana possession, home cultivation, and sales.
The first poll, compiled by Ohio Northern University, finds that just under two-thirds of Ohioans express general support for legalization. The second survey, conducted by Public Policy Polling, finds that 59 percent of voters intend to vote in favor of Issue 2.
The Issue 2 ballot proposal allows for adults to grow personal use amounts of marijuana at home and establishes a licensed market for the sale of cannabis products. If enacted by voters on Election Day (November 7th), the possession of marijuana will become legal for adults on December 7th. However, because the proposed measure is a statutory question rather than a constitutional amendment, state lawmakers have the option of amending its provisions legislatively.
The just-released Public Policy Polling survey is consistent with those of several prior polls finding that just under 60 percent of Ohioans back the legalization measure.
Early voting has already begun in Ohio. According to media reports, voter turnout is already well above expectations, particularly in some of the state's larger counties.
If passed, Ohio will be the 24th state to legalize the adult-use marijuana market, and the 14th do so by a public vote.
Additional information about the Issue 2 initiative is available from the Coalition to Regulate Marijuana Like Alcohol.
Related
Medical Disclaimer:
The information provided in these blog posts is intended for general informational and educational purposes only. It is not a substitute for professional medical advice, diagnosis, or treatment. Always seek the advice of your physician or other qualified healthcare provider with any questions you may have regarding a medical condition. The use of any information provided in these blog posts is solely at your own risk. The authors and the website do not recommend or endorse any specific products, treatments, or procedures mentioned. Reliance on any information in these blog posts is solely at your own discretion.