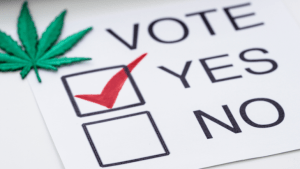 Members of North Carolina's Eastern Band of Cherokee Indians have decided in favor of a referendum permitting the use and sale of marijuana on tribal land.
According to preliminary results, 70 percent of voters backed the measure, which read: "Do you support legalizing the possession and use of cannabis for persons who are at least twenty-one (21) years old, and require the EBCI [Eastern Band of Cherokee Indians] Tribal Council to develop legislation to regulate the market?"
Tribal leaders had previously approved regulations overseeing the cultivation of marijuana for medical purposes. However, tribal members have yet to begin engaging in sales of medicinal cannabis products.
North Carolina state laws do not permit marijuana to be used for either medical or for adult-use purposes. Senate-backed legislation permitting qualified patients access to cannabis products stalled this year in the House chamber.
Prior to yesterday's vote, Republican Congressman Chuck Edwards (NC) urged members to reject the referendum, stating, "To allow our citizens to travel only a few miles to buy and use this common gateway drug … would be irresponsible, and I intend to stop it." Last week, Rep. Edwards introduced federal legislation to withhold certain federal funding from states and tribes that permit the use of marijuana for those age 21 or older.
In response to the vote result, NORML's Political Director Morgan Fox said: "In spite of Congressman Chuck Edwards' blatant attempts to intimidate voters and to interfere with tribal sovereignty, members of the Eastern Band of the Cherokee Indians have stood up for their rights and for the rights of cannabis consumers throughout the state."
He added, "Despite overwhelming public support for cannabis reform, members of the North Carolina legislature have repeatedly failed to pass sensible legislation. Once this referendum is approved and implemented by tribal leaders, the regulated indigenous cannabis market will be a source of great relief for all those living under North Carolina's draconian and unpopular criminalization policies."
Once the referendum is enacted, retails sales of cannabis will be open to all adults over the age of 21, regardless of tribal membership.
In 2020, members of the Oglala Sioux Tribe in South Dakota similarly decided in favor of a referendum regulating cannabis use and sales on tribal land. The production and sale of medicinal marijuana products has since been legalized in South Dakota.
Related
Source link