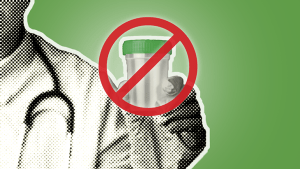 New statewide rules take effect next week ending the practice of pre-employment marijuana screening for most state workers.
Under the new policy, which takes effect on Sunday, October 1st, most public employees will no longer be required to undergo pre-employment marijuana testing. (Exceptions to the new rules will remain for those in certain safety sensitive positions, like law enforcement personnel.) Those previously denied positions because of a failed marijuana test will be eligible to immediately reapply for employment.
Members of the Michigan Civil Service Commission unanimously approved the policy change in July. NORML's Deputy Director Paul Armentano provided testimony to the Commission in support of the change, stating, "Policies that mandate would-be hires to undergo urine screens for past cannabis exposure are invasive, discriminatory, and ineffective. They neither identify workers who may be under the influence, nor do they contribute to a safe work environment."
Michigan is among a growing number of jurisdictions to recently amend its drug testing regulations for public employees. Nevada and Washington have similarly adopted legislation limiting pre-employment cannabis testing for new hires, as have numerous municipalities, including Atlanta, Baltimore, Kansas City, Philadelphia, and St. Louis. Last week, members of the city council in Columbia, Missouri announced a similar policy change. That change also takes effect on October 1st.
Other states, including California, Connecticut, the District of Columbia, Montana, Minnesota, New Jersey, New York, and Rhode Island have expanded these policies to limit cannabis testing for both new hires and existing employees. California's policy change takes effect on January 1, 2024.
Last Wednesday, members of the U.S. House of Representatives, Oversight and Accountability Committee voted 30 to 14 in favor of bipartisan legislation, H.R. 5040: The Cannabis Users' Restoration of Eligibility (CURE) Act, which expands federal employment and advancement opportunities for those with a history of past cannabis use.
NORML's Paul Armentano praised lawmakers' efforts. "Suspicionless marijuana testing in the workplace, such as pre-employment drug screening, is not now, nor has it ever been, an evidence-based policy," he said. "Rather, this discriminatory practice is a holdover from the zeitgeist of the 1980s 'war on drugs.' But times have changed; public attitudes have changed, and in many jurisdictions, the marijuana laws have changed. It is time for workplace policies to adapt to this new reality and to cease punishing employees for activities they engage in during their off-hours that pose no workplace safety threat."
Additional information is available from the NORML Fact Sheet, 'Marijuana Legalization and Impact on the Workplace.'
Related
Medical Disclaimer:
The information provided in these blog posts is intended for general informational and educational purposes only. It is not a substitute for professional medical advice, diagnosis, or treatment. Always seek the advice of your physician or other qualified healthcare provider with any questions you may have regarding a medical condition. The use of any information provided in these blog posts is solely at your own risk. The authors and the website do not recommend or endorse any specific products, treatments, or procedures mentioned. Reliance on any information in these blog posts is solely at your own discretion.