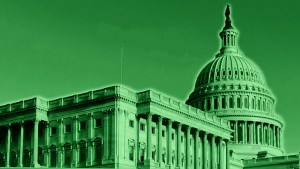 Members of the U.S. House of Representatives, Oversight and Accountability Committee voted 30-14 today in favor of bipartisan legislation, H.R. 5040: The Cannabis Users' Restoration of Eligibility (CURE) Act, which expands federal employment and advancement opportunities for those with a history of past cannabis use.
As amended and passed by the Committee, the legislation limits federal agencies' ability to consider an applicant's past cannabis use when making security clearance or federal employment suitability decisions.
NORML's Political Director Morgan Fox praised the advancement of the bill: "Applicants for federal employment and security clearances should not be unfairly disqualified solely for their past cannabis use. While it is disappointing that the Committee did not see fit to stop federal agencies from discriminating against those responsible adults and patients who are current consumers of cannabis, this legislation will nonetheless open up new opportunities to millions of Americans, increase the talent pool available to federal employers, and ultimately make our country safer."
Fox added: "Several federal agencies have already decreased the role that marijuana use plays in determining employment suitability. The Office of Personnel Management has similarly recommended that all federal agencies limit the window of time during which one's past cannabis use is considered for denial of employment. And a growing number of states are taking steps to protect the employment rights of responsible cannabis consumers and increase the opportunities available to them. Congress should do the same, and this overwhelming bipartisan vote today shows that lawmakers on both sides of the aisle are moving in the right direction."
In written testimony provided to the Committee in support of the CURE Act, NORML's Deputy Director Paul Armentano opined: "Denying tens of millions of Americans opportunities for federal employment is unduly punitive, discriminatory, and fails to serve the public interest. Passage of the CURE Act will help correct this unjust policy. It will increase the talent pool of candidates eligible for federal employment, while recognizing the reality that millions of Americans have experience with cannabis and should not be denied the opportunity to positively contribute to our federal workforce."
In July, Michigan officials voted to end pre-employment drug testing requirements for most state workers.  Nevada and Washington have similarly adopted legislation limiting pre-employment cannabis testing for new hires, as have numerous municipalities, including Atlanta, Baltimore, Kansas City, Philadelphia, and St. Louis. Several other jurisdictions, including California, Connecticut, the District of Columbia, Montana, New Jersey, New York, and Rhode Island have expanded these policies to limit cannabis testing for both new hires and existing employees.
Additional information about The CURE Act is available from NORML.
Related
Medical Disclaimer:
The information provided in these blog posts is intended for general informational and educational purposes only. It is not a substitute for professional medical advice, diagnosis, or treatment. Always seek the advice of your physician or other qualified healthcare provider with any questions you may have regarding a medical condition. The use of any information provided in these blog posts is solely at your own risk. The authors and the website do not recommend or endorse any specific products, treatments, or procedures mentioned. Reliance on any information in these blog posts is solely at your own discretion.