As the cannabis industry becoming legal with some restrictions in different places, many people are trying to include its compounds, especially CBD and THC, in almost everything. In this article, we'll focus on CBD as a special ingredient of cocktails and the best CBD cocktail recipes you can try. For each recipe, you can plan to buy CBD tinctures to utilize. Read on for more details.
CBD Cocktails
Among the numerous reasons to experiment with CBD-infused beverages is that they may help alleviate stress, anxiety, and sleeplessness without making you feel euphoric.
Mixologists at trendy pubs and restaurants nationwide are mixing it into their beverages in addition to its numerous cooking applications. With a wide variety of flavors to choose from, there's something for everyone's taste buds.
Before we get into the cocktail recipes, it's important to remember that each person's body is unique. The exact quantity of CBD might have different effects on each person, so start with lesser dosages. Try not to go over your daily CBD limit. Eating or smoking CBD-infused products on the same day counts as well.
#1 CBD Sangria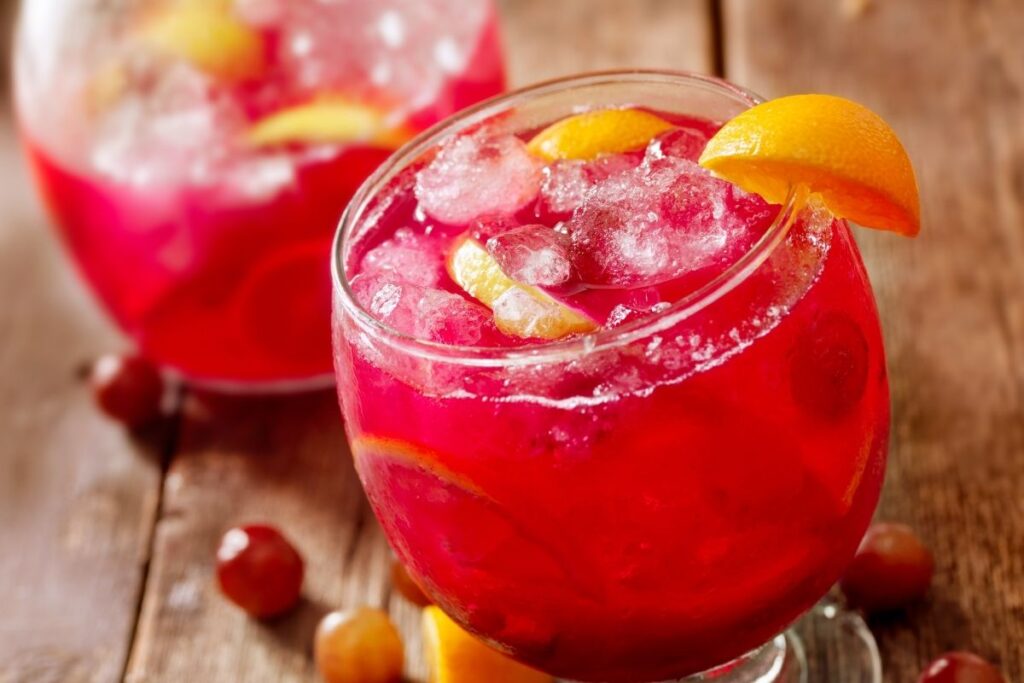 It's a given that sangria is a crowd-pleaser at any party, but adding CBD to the mix makes it even better. Gathering the components is the first step to creating a CBD sangria. One bottle of Shiraz, half a cup of CBD syrup, a quarter cup of brandy, two slices of oranges, a whole clove, and a cinnamon stick are all you'll need.
In a large pitcher, combine all of the ingredients and refrigerate for at least 24 hours. It'll become better the longer you leave it alone. Finally, remove the cinnamon and cloves from the drink before presenting them to your guests.
#2 CBD Mint Julep
Adding CBD Mint Julep to your drink of choice is a great way to put your mind at ease. This whiskey-heavy drink is transformed into a strong porch pounder because of the cannabis' lush flavors. 2 and 1/2 ounces of bourbon, one tablespoon simple syrup, 6 cannabis leaves, 2 mint leaves, and 15 milligrams of CBD tincture are all you need to make this drink.
Muddle the mint leaves and simple syrup in the cup of a cold Julep to begin making a CBD mint Julep. The bourbon and pebble ice are then added to the glass. As a last touch, add a dash of peppermint or mint sprigs, depending on your taste.
#3 CBD Dirty Martini
The dirty martini is a traditional and sophisticated cocktail. With the addition of CBD to this drink, you'll not only feel sexy but relaxed as well. This classic CBD dirty martini is made with two ounces of dry gin, 0.5 ounces of cocktail brine made from green olives, a dash of freshly ground black pepper, and three CBD oil drops.
Once all ingredients are ready, you need to put them in a mixing glass with ice and swirl them until they are cooled. Once it's been strained into a martini glass, add three drops of CBD Tincture oil, some cracked black pepper, and olive to finish it off.
#4 CBD Blueberry Thyme Gin Fizz
This traditional drink may be enjoyed with thyme and fresh blueberries! The botanicals intensify thyme's natural flavor in gin, which counteracts the sweetness of the luscious blueberries.
Two ounces of your favorite gin, 1/2 ounce lemon juice, 1/4 ounce simple syrup, 1/4 cup blueberries and a half teaspoon of thyme leaves are all you need to make delicious CBD gin fizz.
First, combine the gin, lemon juice, simple syrup, fresh blueberries, and thyme leaves in a cocktail shaker or mason jar. Once that's done, pour it into an ice-filled beverage glass. Then, add a dash of sparkling water and your preferred CBD tincture. Finish by sprinkling fresh blueberries and thyme on top of the lemon slice.
Takeaway
CBD oil may aid with the benefits of a hangover in the cocktail mentioned above recipes, which come in various tastes. You should always check the legal status of CBD in your region before using it and get medical attention if you notice any unwanted effects.