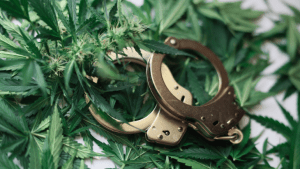 Voters in the city of Lubbock (population: 261,000) will decide this spring whether to adopt a citizens-initiated measure to depenalize certain marijuana-related offenses.
In October, advocates submitted twice the total number of signatures required to compel city officials to vote on the Freedom Act Lubbock measure. The proposed municipal ordinance ends arrests and citations for adults who possess misdemeanor amounts of cannabis within the city's limits. The measure also prohibits police from issuing citations for charges related to the possession of marijuana paraphernalia.
Earlier this week, city lawmakers voted against adopting the measure outright, thereby placing it before voters this coming May.
In 2022, Texas police made just under 25,000 marijuana-related arrests, according to the FBI's Crime Data Explorer. Over 98 percent of those arrests were for marijuana possession.
Under Texas law, possessing any amount of cannabis is classified as a criminal misdemeanor, punishable by up to 180 days in jail and a $2,000 fine.
Voters in several Texas cities – including Austin, Denton, Elgin, Harker Heights, Killeen, and San Marcos – have approved similar ballot measures in recent years. In some instances, like in Harker Heights, local officials have attempted to halt the implementation of the measures following voter approval.
Since 2012, NORML has identified over 120 cities or counties nationwide that have passed ordinances providing for significantly lower cannabis-related penalties than those provided under state laws.
Information on the initiative effort is available from Freedom Act Lubbock. Additional information is available from Texas NORML.
Related
Medical Disclaimer:
The information provided in these blog posts is intended for general informational and educational purposes only. It is not a substitute for professional medical advice, diagnosis, or treatment. Always seek the advice of your physician or other qualified healthcare provider with any questions you may have regarding a medical condition. The use of any information provided in these blog posts is solely at your own risk. The authors and the website do not recommend or endorse any specific products, treatments, or procedures mentioned. Reliance on any information in these blog posts is solely at your own discretion.