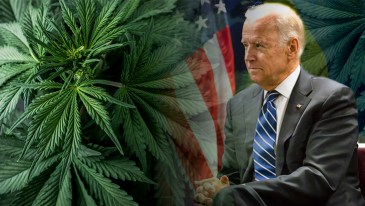 The Justice Department is in the process of finalizing the online application process for those persons eligible to receive certificates indicating that their marijuana-related convictions have been pardoned by the President.
A notice provided by the Office of the Pardon Attorney and published today in the Federal Register states that the agency "has developed the subject form to collect information from potential pardon recipients." The Office estimates that as many as 20,000 people may apply to receive pardon certificates.
In October, President Joe Biden proclaimed that he was using his executive authority to provide pardons to all Americans with a federal conviction on their record for low-level marijuana possession. NORML had called upon the Administration to grant blanket pardon relief to nonviolent marijuana offenders shortly after the President took office. Estimates provided last fall by the US Sentencing Commission indicated that nearly 7,000 Americans would be eligible for relief.
In December, Justice Department officials said that an online application process for those seeking pardon certificates would be available "very soon." To date, however, the online application process remains unavailable. NORML has publicly criticized the Administration for its failure to provide pardon certificates in an expedited manner, stating: "Many of those eligible for forgiveness have suffered numerous lost opportunities over the years because of a lingering conviction for behavior that most Americans no longer believe should be a crime. They should not have to continue to wait for relief any longer."
The issuance of the pardon certificates are important because possessing the certificate provides "proof" that one's conviction has been pardoned under the terms of the President's proclamation, according to US Pardon Attorney Elizabeth Oyer.
Despite the update, a timeline for when the Justice Department's website will begin accepting applications remains unknown. The OPA is currently in the process of collecting public comments until April 3, 2023.
Related
Source link