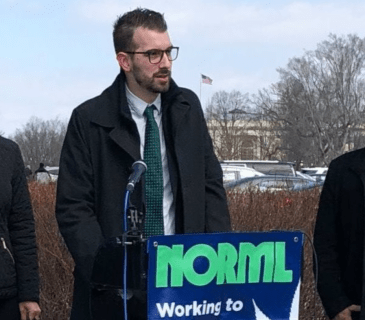 NORML's Executive Director Erik Altieri is officially stepping down from his position at the organization to pursue projects outside of the marijuana policy reform space. 
Altieri assumed the leadership role in November 2016, directing NORML during one of the more successful periods in the marijuana law reform movement's history. Since Altieri took over leadership of the organization in 2017, 13 states have legalized cannabis for adults and on two occasions, the US House of Representatives has voted to repeal federal cannabis prohibition. In October, President Joe Biden became the first sitting president to call federal prohibition a "failed approach to marijuana." He also issued a directive pardoning over 6,500 Americans with low-level federal marijuana convictions on their criminal records. 
Altieri also shepherded the organization through the COVID pandemic, during which time NORML advocated on behalf of policies to better educate, represent, and protect the cannabis community. These activities included cautioning consumers not to share cannabis consumption devices, pushing back against  purveyors of unproven, cannabis-specific COVID remedies, partnering with scientists and other health professionals who sought to document the pandemic's effects on consumers' behaviors, and advocating for state and local policies declaring regulated marijuana businesses as essential services. 
"I'm proud that NORML has remained true to the mission on which it was founded in 1970: to advocate on behalf of cannabis consumers."

Erik Altieri
Altieri began his professional career with NORML as an intern in 2007 and later became Communications Director. After a brief absence from the organization, he returned in 2016 as the youngest Executive Director in NORML's 50+ year history. 
On numerous occasions, Altieri was recognized by the cannabis community for his leadership and service. He was selected by Forbes, Cannabis Now, and others to appear on their annual '30 under 30′ and '40 under 40′ lists of industry and advocacy leaders. In 2022, Inside NJ listed Mr. Altieri as #16 on their Top 100 Power List, stating, "[He] has presided over the most fruitful era of cannabis reform in the history of mankind."
"I'm proud that NORML has remained true to the mission on which it was founded in 1970: to advocate on behalf of cannabis consumers," Altieri said. "NORML's work focuses heavily on the core goal of ending prohibition, so no marijuana consumer is treated as a criminal or a second-class citizen in society."
NORML's Board of Directors has formed a committee to coordinate the search for a new Executive Director. In the interim, NORML Board Member and Treasurer Randy Quast will serve as NORML's acting Executive Director.
Related
Source link