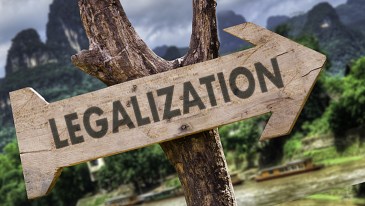 Lawmakers have advanced legislation to regulate the adult-use marijuana market in the territory of the US Virgin Islands (population: 106,000).
Senators overwhelmingly approved amended legislation, 'The Virgin Islands Cannabis Use Act,' which seeks to "establish a regulated system for the cultivation, manufacture, and sale of cannabis for adult, medical, and sacramental use."
The proposed measure, which was advanced to the Governor's desk with a veto-proof majority, creates an 'Office of Cannabis Regulation' to oversee the commercial cannabis market. Those age 21 or older will be able to legally possess and purchase cannabis products from licensed establishments; they may also consume cannabis at on site at licensed lounges. Members of faith-based organizations who consume cannabis for sacramental purposes will be permitted to home-cultivate limited quantities of cannabis (up to six mature plants) for their own personal use.
"Once implemented, … the Territory will see an industry that is inclusive and diverse, and most importantly, safe," said the bill's sponsor, Sen. Janelle Sarauw, in a press release. "It is my hope that the current administration implements [the law] to its full potential, for the benefit of the people of this Territory."
Separate legislation unanimously passed by the Senate establishes an "auto-expungement task force" to facilitate the sealing of cannabis-related criminal convictions. Administrators are mandated to begin issuing expungements for marijuana-related possession offenses no later than 10 months following the law's enactment.
The use, dispensing, and home cultivation of cannabis for medical purposes is already legal in the Virgin Islands, while adult-use possession (up to one ounce) is decriminalized.
Related
Source link