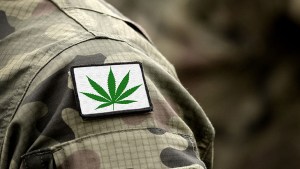 Post-traumatic stress patients experience symptom improvements following the use of medical cannabis products, according to observational data published in the journal Medical Cannabis and Cannabinoids.
A team of investigators affiliated with the University of Florida at Gainesville assessed cannabis' efficacy in a cohort of 15 patients with post-traumatic stress disorder (PTSD). Participants in the study possessed a physician's authorization to access medical cannabis products from state-licensed dispensaries. Study subjects were assessed at baseline and then again 30 days and 70 days later. Patients in the study typically used THC-dominant herbal cannabis.
Researchers reported significant improvements in patients' symptoms following cannabis therapy, including improvements in sleep quality and overall mental health. Participants also experienced fewer nightmares.
The study's authors concluded: "Our primary findings were that individuals with PTSD reported improvements in overall PTSD symptom severity 30 and 70 days after initiating MMJ [medical marijuana]. Post hoc analyses revealed that most participants experienced a significant improvement in PTSD severity by the 30-day time-point and that these improvements were maintained through day 70. In addition to improvements in overall PTSD symptom severity, participants reported improvements in sleep quality and duration, as well as reduced nightmare frequency. Moreover, they reported reductions in negative affect and improvements in overall well-being. These findings suggest that MMJ use may be associated with clinical benefits in people with PTSD."
The study's conclusions are consistent with those of other observational trials finding that cannabis products reduce levels of anxiety and provide other improvements in post-traumatic stress patients. Studies have also reported that the use of the synthetic cannabinoid nabilone is associated with reductions in the frequency and intensity of trauma-related nightmares in PTSD patients.
Survey data indicates that those suffering from post-traumatic stress are more likely to consume cannabis products than those without a PTSD diagnosis. Among military veterans, 39 percent say that they "know a veteran" who is using the cannabis medicinally, and 75 percent say that they "would be interested in using cannabis or cannabinoid products as a treatment option if it were available."
Nonetheless, federal law prohibits physicians associated with the US Department of Veterans Affairs from issuing medical cannabis recommendations to their patients, even in states that explicitly permit its use. Legislation lifting this prohibition has recently been approved by members of the House and Senate, but awaits further action in conference committee.
"Veterans with post-traumatic stress are increasingly turning to cannabis, and a growing body of data is substantiating that it can mitigate their symptoms," NORML's Deputy Director Paul Armentano said. "It makes no sense for those physicians who specialize in treating them to live under a gag order when it comes to discussing the medical utility of cannabis with their patients."
Full text of the study, "Improved post-traumatic stress disorder symptoms and related sleep disturbances after initiation of medical marijuana use: Evidence from a prospective single arm pilot study," appears in Medical Cannabis and Cannabinoids. Additional information on cannabis and post-traumatic stress is available from NORML's publication, Clinical Applications for Cannabis & Cannabinoids. NORML's fact-sheet, 'Marijuana and Veterans Issues,' is available online.
Related
Medical Disclaimer:
The information provided in these blog posts is intended for general informational and educational purposes only. It is not a substitute for professional medical advice, diagnosis, or treatment. Always seek the advice of your physician or other qualified healthcare provider with any questions you may have regarding a medical condition. The use of any information provided in these blog posts is solely at your own risk. The authors and the website do not recommend or endorse any specific products, treatments, or procedures mentioned. Reliance on any information in these blog posts is solely at your own discretion.