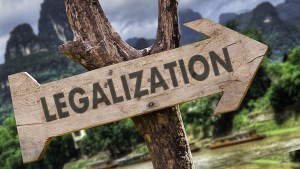 On Election Day, a majority of Ohio voters decided in favor of Issue 2 — a citizen-initiated ballot measure legalizing the possession, home cultivation and retail sale of marijuana.
The election outcome was hardly a surprise. Nationwide, an estimated 70 percent of Americans — including majorities of Democrats, Republicans and independents — endorse legalization. Of the 24 states that have legalized it, over half have done so by public vote.
Recent polling of Ohioans left little doubt where voters stood on the issue. Specifically, a Baldwin Wallace University poll reported ample support for Issue 2 among nearly every demographic group measured. Support for legalization held firm regardless of voters' political party, gender, age, race, religion and education level.
With such broad public support, one would think elected officials would express similar enthusiasm for legalization. But this has hardly been the case, especially among Republican politicians.
In the days following Ohio's vote, Senate President Matt Huffman stated, "The General Assembly may consider amending the statute." Republican Gov. Mike DeWine has also called for legislative changes to the law before its enactment date, December 7, 2023. Because the proposed measure was put before voters as a statutory question rather than a constitutional amendment, state lawmakers can amend or repeal its provisions.
This sort of post-election pushback from Republican officials is not unique to Ohio. Neither are Republicans' threats to disregard the will of the voters when it comes to the topic of marijuana legalization.
For example, in 2020, 54 percent of South Dakotans voted in favor of a constitutional amendment legalizing the adult-use cannabis market. Weeks later, Republican Gov. Kristi Noem spearheaded litigation challenging the vote. That litigation ultimately resulted in nullifying the election's outcome.
In Mississippi, litigation filed on behalf of a Republican mayor repealed the vote of 74 percent of state voters who decided in favor of a 2020 ballot measure permitting legal marijuana access for authorized patients. The Mississippi ruling also struck down voters' ability to conduct any future ballot initiatives — ensuring that the public will not be able to have their say on the issue in the future.
Currently, Florida's Republican attorney general is seeking to preemptively deny a proposed marijuana legalization initiative from appearing on the 2024 ballot. Advocates have already gathered over 1 million signatures from Florida voters in support of the measure, and polling shows majority support for legalization in the Sunshine State. Justices on the state's Supreme Court will decide the proposal's fate in the coming weeks.
Whether or not one personally supports or opposes cannabis legalization, these overtly undemocratic tactics ought to be a cause of deep concern. In a healthy and functioning democracy, elected officials represent the views of the electorate. But, when it comes to the issue of cannabis law reform, Republican lawmakers all too often ignore or seek to undermine their voters.
Given the public's growing bipartisan enthusiasm for legalization, they risk doing so at their peril.
A version of this op-ed was originally published by The Hill.
Related
Medical Disclaimer:
The information provided in these blog posts is intended for general informational and educational purposes only. It is not a substitute for professional medical advice, diagnosis, or treatment. Always seek the advice of your physician or other qualified healthcare provider with any questions you may have regarding a medical condition. The use of any information provided in these blog posts is solely at your own risk. The authors and the website do not recommend or endorse any specific products, treatments, or procedures mentioned. Reliance on any information in these blog posts is solely at your own discretion.