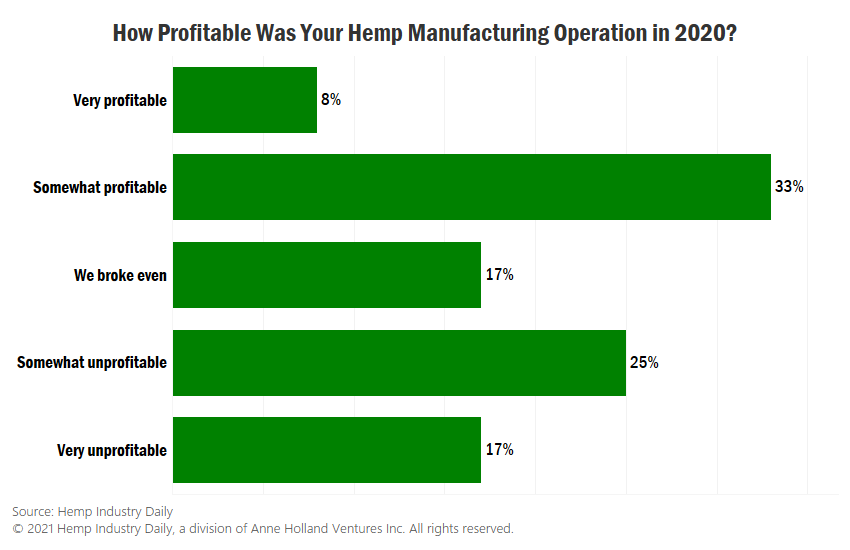 Significant financial returns are still elusive for many hemp–products manufacturers, with only 8% of respondents to the Hemp Industry Daily survey saying their companies were "very profitable" in 2020.
But the segment is getting there, with one-third of processor respondents noting their businesses were "somewhat profitable." 
At the same time, 42% of respondents said their operations still remained unprofitable.  
A key difference when it comes to profitability appears to be the size of the operation. The more–profitable players tend to be the larger organizations, which are also putting more capital into the business to get the larger returns. They also are likely to be more established with more operational experience in this space. 
More exclusive intelligence about the hemp industry is available in the Hemp & CBD Industry Factbook 2021 Edition. It's on sale here.
Medical Disclaimer:
The information provided in these blog posts is intended for general informational and educational purposes only. It is not a substitute for professional medical advice, diagnosis, or treatment. Always seek the advice of your physician or other qualified healthcare provider with any questions you may have regarding a medical condition. The use of any information provided in these blog posts is solely at your own risk. The authors and the website do not recommend or endorse any specific products, treatments, or procedures mentioned. Reliance on any information in these blog posts is solely at your own discretion.