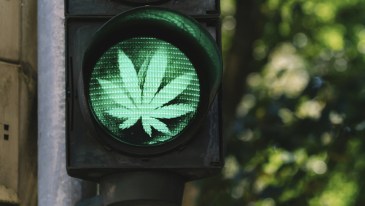 Virgin Islands (population: 106,000) Governor Albert Bryan Jr. has signed legislation into law regulating the adult-use marijuana market and providing relief to those with past cannabis-related convictions.
"From the beginning of the Bryan-Roach Administration, we have worked towards the legalization of the adult use of cannabis, and today, with the hard work of the members of the 34th Legislature and prior Legislatures and the efforts of my team, we are finally here and finally signing into law the Virgin Islands Cannabis Use Act," Governor Bryan said. He added, "It is my goal to make sure many of us who have been negatively impacted by the criminalization of cannabis are afforded every opportunity to participate in this new and legal cannabis industry."
The Virgin Islands Cannabis Use Act creates an 'Office of Cannabis Regulation' to establish rules governing the commercial cannabis market. Under the law, those age 21 or older will be permitted to purchase cannabis products from licensed establishments and consume cannabis at on site at licensed lounges. Members of faith-based organizations who consume cannabis for sacramental purposes will be permitted to home-cultivate limited quantities of cannabis (up to six mature plants) for their own personal use. The new law also reaffirms the rights of qualified patients to access cannabis.
Lawmakers expect that it will be several years before licensed cannabis operators are in place.
By contrast, efforts to provide legal relief to those with past marijuana-related convictions will take effect far more quickly. During the bill signing ceremony, Gov. Bryan issued a proclamation that allows persons convicted of simple possession of marijuana to apply for a pardon application through the US Virgin Islands Department of Justice. In addition, complementary legislation also signed by the Governor establishes an "auto-expungement task force" to facilitate the sealing of convictions involving the possession of up to two ounces of cannabis. Administrators are mandated to begin issuing expungements for marijuana-related possession offenses no later than 10 months following the law's enactment. The Governor indicated that the task force may expand the pool of those eligible for automatic expungements in the future.
Lawmakers approved separate legislation in 2019 to provide for medical cannabis access, but that law was never fully implemented. Adult marijuana possession (of one ounce or less) had previously been decriminalized.
Related
Medical Disclaimer:
The information provided in these blog posts is intended for general informational and educational purposes only. It is not a substitute for professional medical advice, diagnosis, or treatment. Always seek the advice of your physician or other qualified healthcare provider with any questions you may have regarding a medical condition. The use of any information provided in these blog posts is solely at your own risk. The authors and the website do not recommend or endorse any specific products, treatments, or procedures mentioned. Reliance on any information in these blog posts is solely at your own discretion.