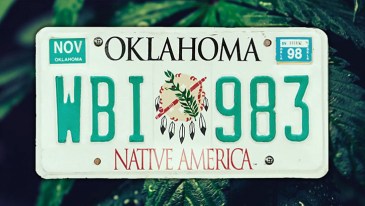 A majority of voters decided Tuesday against a citizens' initiated measure (State Question 820) that sought to legalize the adult-use marijuana market and provide legal relief to those with cannabis-related convictions.
The vote took place in a special election, an unusual circumstance that may have impacted its chances of success. In July, advocates for SQ 820 turned in nearly twice the total number of signatures necessary to qualify the initiative for the 2022 ballot. However, the Secretary of State's office took an excessive amount of time to ultimately verify proponents' signatures. Opponents of the measure then filed a series of questionable legal challenges litigating various facets of the campaign, including challenges to the initiative's summary language. Although justices ultimately dismissed those challenges, they did so after time had elapsed for state officials to include SQ 820 on that year's printed ballots.
In October, Republican Gov. Kevin Stitt issued the executive proclamation calling for this week's special election. The Governor had been vocal in his opposition to legalization, stating that it is "not right for Oklahoma." Several other prominent members of the Republican Party, including US Senator James Lankford and state Attorney General Gentner Drummond publicly opined against the initiative.
Ultimately, voters decided against the measure by a margin of 62 percent to 38 percent.
In 2018, Oklahomans voted in favor of allowing medical cannabis access. The state now has one of the most robust medical marijuana programs in the nation and an estimated 400,000 residents are registered to access cannabis from state-licensed dispensaries.
Those who engage in marijuana-related activities, but who are not registered in the state's medical program face some of the strictest penalties in the nation – with adults convicted of either growing or selling even small amounts of cannabis for non-medical purposes facing up to life in prison.
Related
Medical Disclaimer:
The information provided in these blog posts is intended for general informational and educational purposes only. It is not a substitute for professional medical advice, diagnosis, or treatment. Always seek the advice of your physician or other qualified healthcare provider with any questions you may have regarding a medical condition. The use of any information provided in these blog posts is solely at your own risk. The authors and the website do not recommend or endorse any specific products, treatments, or procedures mentioned. Reliance on any information in these blog posts is solely at your own discretion.