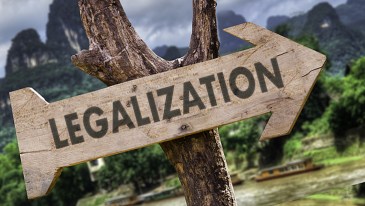 Backers of a statewide initiative that seeks to legalize and regulate the adult-use cannabis market are once again moving forward with plans to place a citizens' initiative on the November ballot.
"It's going to be on the ballot and it's going to pass," Tom Haren, a spokesperson for the Coalition to Regulate Marijuana Like Alcohol, told the Ohio Capital Journal. "Ohio consumers will not have to rely on their drug dealers or go to Michigan. They will be able to have safe, effective and regulated adult use of cannabis right here in the Buckeye State."
Advocates previously collected over 130,000 signatures from Ohio voters in support of the initiative. Those signatures were preserved after litigating parties agreed to a legal settlement last year. Under the terms of that settlement, advocates had to postpone their efforts until this November.
In order to qualify the initiative for this year's ballot, the Campaign needs to collect an additional 124,000 signatures from registered voters in 44 of Ohio's 88 counties prior to July 5th. 
The proposed measure allows for the possession of up to 2.5 ounces of marijuana or 15 grams of marijuana extract by those age 21 or older. Adult Ohioans could purchase marijuana at retail locations or grow up to 12 plants in a private residence (where at least two adults reside). Retail cannabis products would be taxed at 10 percent. Municipalities can to opt out of allowing retail sales if a majority of elected officials decide in favor of an ordinance to do so.
In 2015, Ohio voters rejected a ballot proposal that sought to establish a limited legal market for the commercial production and sale of marijuana to adults. Several provisions of that measure were highly controversial, particularly those that sought to restrict the pool of licensed commercial growers to include only the initiative's financial investors.
Voters last November decided in favor of marijuana legalization initiatives in two states – Maryland and Missouri – and rejected them in three others, Arkansas, North Dakota, and South Dakota.
Additional information is available from the Coalition to Regulate Marijuana Like Alcohol.
Related
Medical Disclaimer:
The information provided in these blog posts is intended for general informational and educational purposes only. It is not a substitute for professional medical advice, diagnosis, or treatment. Always seek the advice of your physician or other qualified healthcare provider with any questions you may have regarding a medical condition. The use of any information provided in these blog posts is solely at your own risk. The authors and the website do not recommend or endorse any specific products, treatments, or procedures mentioned. Reliance on any information in these blog posts is solely at your own discretion.