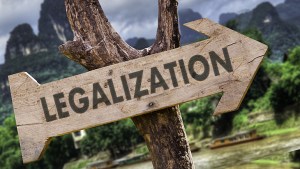 A record 70 percent of US adults believe that "the use of marijuana should be legal," according to nationwide polling data released today by Gallup. That's an increase of 19 percentage points since 2014, when Colorado and Washington became the first states to implement adult-use cannabis legalization, and the highest level of support ever reported by Gallup pollsters.
"There's no 'buyers remorse' among the public when it comes to legalizing cannabis," NORML's Deputy Director Paul Armentano said. "As more states have adopted legalization, public support for this policy has risen dramatically. That's because these policies are largely working as intended and because voters prefer legalization and regulation over the failed policy of marijuana prohibition."
Pollsters reported that Americans back legalization regardless of age and political party affiliation. "Majority support for legalization is found among all major subgroups, including by age, political party and ideology," they determined. "Support for legal marijuana use is highest among self-identified liberals (91 percent) and Democrats (87 percent) and lowest among conservatives (52 percent) and Republicans (55 percent). Support is inversely correlated with age, reaching 79 percent among 18- to 34-year-olds. However, even among the oldest age group, nearly two-thirds (64 percent) are in favor."
In 1969, when Gallup first posed the legalization question, only 12 percent of Americans expressed support for legalizing marijuana.
"Public support for legalizing and regulating cannabis is mainstream and bipartisan," Armentano said. "At a time when many political issues remain acutely polarized, legalizing marijuana remains is one of the few policy reforms that a majority of voters on the right and on the left agree upon. It borders on political malpractice for elected officials, and for Republican lawmakers especially, to sit on the sidelines at a time when more Americans than ever are demanding action."
Complete polling results are available from Gallup. Archived surveys and polls are available from NORML.
Related
Medical Disclaimer:
The information provided in these blog posts is intended for general informational and educational purposes only. It is not a substitute for professional medical advice, diagnosis, or treatment. Always seek the advice of your physician or other qualified healthcare provider with any questions you may have regarding a medical condition. The use of any information provided in these blog posts is solely at your own risk. The authors and the website do not recommend or endorse any specific products, treatments, or procedures mentioned. Reliance on any information in these blog posts is solely at your own discretion.