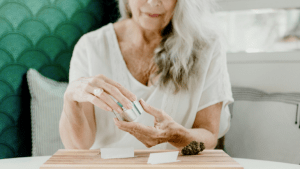 Approximately 20 percent of Americans between the ages of 50 and 60 acknowledge having consumed cannabis within the past 12 months, according to federally funded survey data compiled by the University of Michigan.            
According to the 2022 Monitoring the Future Panel Study Annual Report, 21 percent 50-year-olds and 19 percent of 60-year-olds say that they have consumed cannabis during the past year. Those are the highest percentages ever reported by the survey.            
The survey's findings are consistent with those of others reporting rising rates of cannabis use among older adults and seniors over the the past decade. Separate data published earlier this year found that most older adults possess positive perceptions about cannabis, and several recent studies show that marijuana use is typically associated with quality of life improvements in seniors.            
Commenting on the findings, NORML Deputy Director Paul Armentano said: "It is not surprising that a rising percentage of adults consider cannabis to a viable option in their later years. Many older adults struggle with pain, anxiety, restless sleep, and other conditions for which cannabis products often mitigate. Many older adults are also well aware of the litany of serious adverse side-effects associated with available prescription drugs, like opioids or sleep aids, and they perceive medical cannabis to be a practical and potentially safer alternative."            
Other data from the 2022 report identified those between the ages of 27 and 28 as most likely to have consumed cannabis within the past 12 months, while those ages 23 to 24 are most likely to report using cannabis daily.
Consistent with other studies, the data failed to show any uptick in self-reported cannabis use by young people. According to the report, the percentage of 18-year-olds reporting having used marijuana in the past year fell 16 percent between 2012 and 2022.            
Full text of the 2022 Monitoring the Future Panel Study Annual Report is online. Additional information is available from NORML's fact-sheet, 'Cannabis Use by Older Populations.'
Related
Source link