Over the past few years, you have probably seen CBD brands popping up in your local retail stores and even online. Its popularity continues to grow, and we are here to explore exactly why that is.
CBD, short for cannabidiol, is a cannabinoid derived from the Cannabis Sativa plant. Many may think it is the same thing as marijuana or weed, but the main difference is that CBD has no psychoactive effects, while marijuana and weed do. That is because CBD products sold in most of the world must contain less than .03% THC (Tetrahydrocannabinol). THC is the primary psychoactive ingredient that gets users "high.")
In 2018, the US Farm Bill was passed, opening up the floodgates for CBD manufacturers to start producing CBD products for the mass market. Those products range in a variety of uses and applications.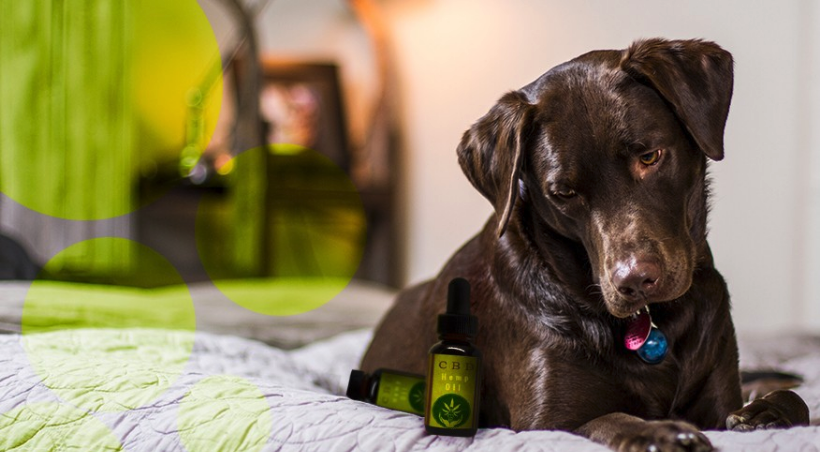 With the explosion of CBD worldwide, there have been a lot of innovative products brought to market. Some of those products include CBD oils, topicals, gummies, and other unique offerings. There are even some unorthodox products like CBD toothpicks and CBD toilet paper. All of the mentioned products are generally consumed by humans, but there has been a rather large emergence of products primarily focused on helping our furry family members, dogs. In this post, we will explore the aspects of using CBD to treat specific pain and ailments in dogs.
Just like humans, dogs have an endocannabinoid system that helps regulate specific functions in the body. The endocannabinoid system (ECS), also known as the "endo" is a complex nerve cell signaling system that modulates the central nervous system's function. It also helps maintain homeostasis by regulating various physiological processes such as immune responses, pain sensation, and cognitive and emotional processes. The endocannabinoid system can also be entered through cannabis plant consumption, further enhancing homeostatic function.
Now that we have some of the basics out of the way let's talk about some of the ailments CBD can help treat. You want to be as informed as possible so you can make the best possible decision for your dog.
One of the issues dog owners use CBD for is seizures. Although seizures are generally not known to be painful, if your dog has a seizure and happens to lose control of motor functions, he or she could easily fall and hurt themselves. If you have ever been in the presence of a pet experiencing a seizure, it's not a fun sight for you, and we can only imagine how the experience is for your dog.
Another common reason is to treat arthritic pain in the joints of dogs. As you can imagine, it would be tough to tell if your dog is feeling more or less pain, but anecdotal evidence suggests that it has a very positive effect on the overall pain relief of your doggo. Some dogs are predisposed to have hip dysplasia or weaker joints, and CBD could be an excellent compound to help keep your dog feeling their best.
There are a few common ways in terms of how CBD is administered to dogs. One is through giving your dog a few drops in their mouth directly in the form of CBD oil. This method can often be tricky, especially if your pet does not enjoy anything that isn't table food or a milk bone. With that in mind, there are things like Eden's Herbals CBD dog treats that make giving your dog CBD quick and easy. Just give your dog this tasty treat, and they will be sure to take their medicine like a champ!
Conclusion
A great way to manage your dog's pain is to use CBD for pain. CBD for pain is a relatively new form of treatment for dogs. As you may have noticed, CBD products are becoming more common in the pet industry. The FDA has not approved these products for use in dogs, so you should do thorough research before any treatment plan for your dog. You want to make sure you are doing what is best for your pet, so knowing all of the facts is a critical step in making the right choice.
Have you ever tried treating your dog's pain with CBD? We would love to hear what your experiences were like in the comments section below!