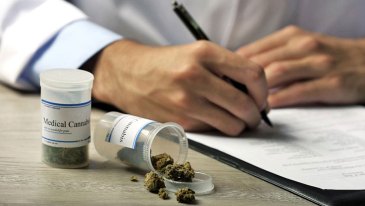 Legislation signed earlier this year by Gov. Youngkin, HB 1846 and SB 1337, to eliminate the requirement that healthcare practitioners register with the Board of Pharmacy in order to issue written certifications for medical cannabis to patients also took effect July 1, 2023. Separate legislation, HB 2368, authorizes practitioners to add a patient's Registered Agent directly to the written certification, eliminating the often weeks-long wait for an agent's registration to be processed. Registered Agents who would like to receive a physical card will still have the option to request one by registering with the Board of Pharmacy. 
HB 2368 also calls for improved medical cannabis product labeling and increased availability of low-THC, CBD-dominant products. 
"These legislative improvements will greatly expand access for Virginians wanting to participate in the medical cannabis program," said NORML Development Director, JM Pedini. 
Once issued a certification, patients may present their written certification and a government-issued ID card to shop at one of the state's medical cannabis dispensaries. 
Separate legislation, HB 1598 and SB 788, will transfer the oversight and administration of the Commonwealth's medical cannabis program from the Board of Pharmacy to the Virginia Cannabis Control Authority on January 1, 2024.
Under state law, adults 21 and older may legally possess up to one ounce of marijuana in public and cultivate up to four plants per household for personal use. However, retail sales in Virginia are currently permitted only to qualified medical patients.
Legislation to legalize and regulate the retail sale of cannabis to adults 21 and older failed to succeed in the 2023 General Assembly. Republican members of the House General Laws Subcommittee halted any further advancement of retail access legislation, including a measure which passed the Senate with bipartisan support and multiple bills introduced by House Republicans. 
"Without access to a regulated marketplace, consumers won't know whether they're getting a safe, tested product or one contaminated with potentially dangerous adulterants," said NORML's Pedini, who also serves as Virginia NORML Executive Director. 
"Legislation providing regulatory oversight is the best way for the Commonwealth to protect cannabis consumers. By failing to take legislative action, lawmakers are electing to continue driving consumers to the unregulated, underground market."
For more information visit Virginia NORML.
Related
Source link