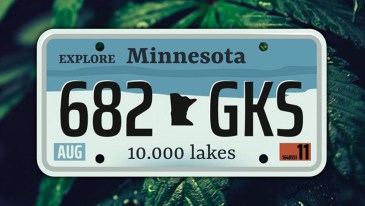 Lawmakers have resolved differences between House-backed and Senate-backed marijuana legalization measures. The finalized measure now goes back to both chambers for floor votes, which could take place as soon as tomorrow.
Lawmakers will need to act quickly as the legislative session is set to end later this week.
Once re-approved by both chambers, the bill will be advanced to Democratic Gov. Tim Walz, who intends to sign it into law. If enacted, Minnesota will become the 23rd state to legalize and regulate the use and sale of cannabis by those ages 21 and older.
Provisions in the bill permit adults to purchase (up to two ounces from state-licensed retailers, as well as lesser quantities of concentrates and/or edibles), home-cultivate (up to eight plants, no more than four of which can be mature), and possess cannabis (up to 2 pounds in private). The bill also facilitates the automatic review and expungement of records for those previously convicted of certain marijuana-related violations.
"The majority of Minnesota voters support repealing marijuana prohibition and replacing this failed policy with legalization and regulation," NORML's Deputy Director Paul Armentano said. "Passage of this legislation is the result of years of grassroots activism by consumers and stakeholders, including Minnesota NORML. In fact, the impetus for the formation of Minnesota NORML was based upon a police raid and resulting marijuana arrest. These sort of destructive actions are now poised to come to an end in Minnesota."
State regulators will license commercial cannabis growers, retailers, and delivery services. On-site consumption will be allowed at certain permitted events. Municipal officials will be able to impose regulations regarding the total number of cannabis businesses and their locations, but they may not prohibit their operations. Retail cannabis sales will be taxed at ten percent.
Adults may begin legally possessing cannabis as of August 1, 2023. State officials will also begin the process of reviewing and expunging records at that time.
Minnesota is poised to become the third state this year to enact marijuana legalization. Delaware lawmakers passed a pair of bills in April legalizing adult-use marijuana possession and establishing a system for the licensed sales of cannabis products. Under the new laws, adult-use possession became legal on April 23. State regulators must begin accepting retail business license applications by August 1, 2024.
Maryland lawmakers also recently passed legislation to implement a voter-approved referendum legalizing the use and sale of marijuana products and expunging cannabis-related criminal records. Adults will be legally able to possess up to 1.5 ounces of cannabis and/or 12 grams of cannabis concentrates with no penalty beginning on July 1st. Existing medical cannabis dispensaries will be able to apply (for a fee) for dual licensure to sell to the adult-use market beginning this summer. State regulators must start approving additional marijuana business licenses by July 1, 2024.
Additional information is available from Minnesota NORML.
Related
Medical Disclaimer:
The information provided in these blog posts is intended for general informational and educational purposes only. It is not a substitute for professional medical advice, diagnosis, or treatment. Always seek the advice of your physician or other qualified healthcare provider with any questions you may have regarding a medical condition. The use of any information provided in these blog posts is solely at your own risk. The authors and the website do not recommend or endorse any specific products, treatments, or procedures mentioned. Reliance on any information in these blog posts is solely at your own discretion.